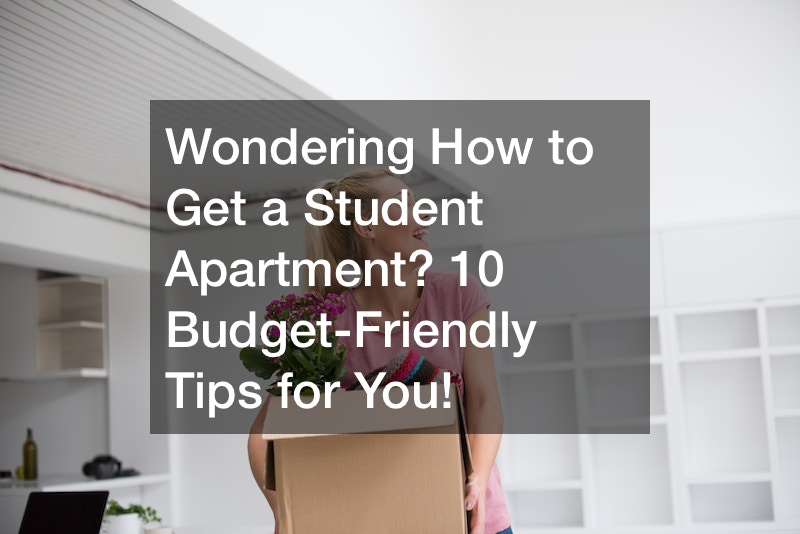 Convenient accommodation is one of the critical aspects of a student's life on campus. It facilitates a great study environment and a space that guarantees safety. It helps students to set up an ideal location with all their essentials and one that is a walking distance from classes and the campus. This location also enables students to save on transportation costs incurred from commuting from home every day. Modern off-campus student apartments are cheap and help you build a keen sense of community.
Most campuses get tens of thousands of applications every year. These numbers are increasing rapidly, and it has become impossible for these institutions to keep up with the growing need for on-campus accommodation. Student apartments are an excellent alternative and give students some semblance of freedom. Choosing where you live is a critical and exciting decision for university students. It is the beginning of a new chapter in life and a taste of the outside world. Here are some great tips on how to get a student apartment in 2022.
Discover Your Options
Wondering how to get a student apartment? The type of student accommodation you choose will depend on several factors, including your budget and specific needs. On-site student halls are included in tuition payments, but private rented accommodation cost extra. The latter provides a better living experience and more privacy. Off-campus accommodation has more options in terms of shops, food outlets and proximity to other utility areas. A student apartment is also easier to find, as there are many available options around most campuses. There is also less competition as many students opt for university hostels.
Do Your Research
When it comes to how to get a student apartment, don't jump into the first apartment you see. Consider the proximity, security, and tranquility of the area. As a student, you will need plenty of quiet time to study. Noisy neighbors will interrupt your studies and reduce your peace of mind. A trendy apartment may seem attractive, but there are several things you must consider before moving in. Choose a place that will minimize your spending and ensure you have the best experiences during your time on campus. You can also consult university accommodation on the best housing options in the area and where to get a cost-effective apartment.
Evaluate Online Listings
Going door to door is a tedious and time-consuming process. It is also impossible to physically access every apartment around the campus. Online listings and real estate reviews are a great way to find the best student apartments. These customer opinions give you an idea of which apartments are most popular and the ones that are convenient for a student lifestyle. Online listings also provide a list of amenities and student essentials included in the apartment. This resource will allow you to look through dozens of listings and determine which one best suits your needs.
Affordability
The most critical aspect of how to get a student apartment is affordability. What can you comfortably pay without struggling to make rent? The idea is to stay within your budget and save costs in all areas. Look for an apartment with an excellent transport network and one that has all the necessary utilities. Living off-campus means you will have more monetary commitments, such as groceries and other fees, like electricity and gas. Your apartment should be affordable and convenient. You may need to consider a roommate to help you cut the cost of monthly fees. This will enable you to get an improved student apartment.
Ask the Right Questions
When it comes to how to get a student apartment, getting the perfect location will require several considerations. You need to fully understand the implications of living off campus. Critical concerns such as including appliances and utilities must be considered. It is crucial to know how long the lease agreement is before signing the contract. Other considerations include the estimated cost of all monthly fees and whether there are any hidden costs. You also need to know who to call for repairs and the regulations governing your tenant-ship. Are pets allowed, and do they charge you extra if you have one? Does the lease include a parking space? All these logistical considerations are crucial to know before signing any contract.
Figure Out Your Needs
Always know what you want before you begin the search. Assign a list of priorities for essential utilities and perks you need to make your life comfortable. Plan out your needs and find a place that ticks all or most boxes. Things like transportation and safety are critical here. You can access facilities such as swimming pools and gyms for free on campus. Having an apartment with the same will only make you incur unnecessary extra costs. Keep extracurricular utility bottom of your list of needs.
Evaluate Your Finances
Moving into a student apartment is a complex and time-intensive process. It requires a lot of research and is capital intensive. The most crucial part of this process is evaluating if you have the financial capacity to live off-campus. While this apartment offers more flexibility, there are various costs like security fees, a move-in deposit, and utility costs for electricity and water. Knowing what you have will help you establish what type of apartment you can get and the kind of utilities you can access. The best idea is to either sublet or find a roommate. Many students use student loans to pay for their apartments, that's a bad idea. This option will leave a debt you must pay and hurt your credit score. When it comes to how to get a student apartment, only go for an apartment that you can afford comfortably.
Browse Student Accommodation Websites
There are plenty of websites that offer quality advice on student accommodation. These sites provide listings on location, and they outline the various utilities and facilities included in the monthly fees. They also list the safety levels, transportation links, and rank of each apartment in terms of value for money. Student accommodation websites list apartments that accept cosigning and offer special student rates. They constantly update new complexes as they open and make it easy for students to identify apartments that suit their needs.
Opt for a Private Home
Most apartment complexes have strict rules and a lot of inexplicable costs. This is because most of these options are run by property management companies. These entities decide who qualifies for a unit and set the rent at an obscene amount to meet their quota. To avoid this, it is better to go for a private home instead. Find listings owned by individuals rather than management companies. Private homes have more privacy, are cheaper and landlords are more understanding. It is also easier to negotiate with an individual. An Airbnb can also be an excellent option since most of these utilities offer a discounted rate for long-term tenants. These homes are more comfortable and have fewer rules compared to apartment complexes.
Increase Your Security Deposit
Sometimes a student may be incapable of coming up with rent money. Landlords are apprehensive about renting to students for this reason. Paying a high-security deposit provides a cushion when this happens. This deposit is acceptable to most renters and is a way to cover any risks involved during your stay. It is also an excellent option for tenants who cannot find a cosigner or a guarantor for the lease agreement. You can offload some of the equipment you don't use by having a yard sale or sell old computer equipment for cash to increase your security deposit. The solution would be to seek a private money loan to increase your budget.
Key Considerations
Critical Utilities
When it comes to how to get a student apartment, it's not just about finding a trendy apartment. Consider what facilities are necessary for a smooth transition. Think about proximity to a family care physician or a qualified gynecologist. Note that your health is critical during your time at school, primarily because it affects your ability to concentrate and attend classes. Being near a health center ensures you can access emergency medical care 24/7. You will also be commuting to school daily. It means that you will be using the car regularly. Check for a location that has an auto shop nearby in case you need servicing or car repairs. A working elevator may not seem like a priority, but it is crucial. Find a complex with an accessible elevator maintenance service to ensure it is in working order. An elevator saves you time and energy and is a convenient way to access every area in the apartment complex. An elevator will also make moving less strenuous by reducing the effort when loading furniture or heavy home appliances into your house.
Evaluate Storage
Storage space is critical when it comes to how to get a student apartment. Consider that you need room to study and storage solutions for your books and other home equipment. Look for a place with enough room to keep everything you need and leaves you some usable space to maneuver around. You can install reclining drawers in various areas in the house to prevent clutter once you move in. Talk to the landlord and see what budget options there are and which ones will suit your specific needs for the duration of your stay.
Evaluate Home Maintenance and Repair Efficiency
Find out who is responsible for apartment management or repair when necessary. The apartment you choose should have a number for in-house maintenance personnel for all the tenants on the complex. Outsourcing maintenance is an expensive process and trying to do it yourself is not advisable, especially if you have no relevant experience. It is also risky to try antenna repair or make squirrel removal a DIY project. Ensure the apartment you chose has a straightforward procedure on who handles what and who you should call when you have a problem.
Location
The idea is to cut costs and operate within your budget. Find an apartment close to the college to save on transportation costs. Location is also a critical consideration because it saves time. Living far from the campus also means you will struggle to make it to early morning lectures or meet your schoolmates for discussions. The location is also crucial if you're new to the area. It allows you to adapt much faster and grip where everything is quicker. It may not be possible to study at home mainly because you lack access to many studying materials. Being close to the campus allows you to access the library and other utilities and makes revising more convenient.
Stay Connected
You will spend plenty of time in your apartment once you move in. You need an effective way to communicate with other students and get updates from the college professor. Look for an apartment with a reliable internet connection to ensure you don't miss any advances in your studies. Locate the complex with the best Wi-Fi connectivity to stay connected to your school and monitor any progress in your course. The Internet is also crucial for research and communication purposes. You can virtually attend class if you cannot make it to any of the lectures. Course groups have social media pages to post new course topics and reading assignments. A reliable internet connection will ensure access to all these utilities and keep you updated. This resource is a critical part of modern education. It is the richest source of information and the fastest way to communicate. This is why it should be at the top of your list of considerations when you're wondering how to get a student apartment.
Moving into a new apartment exposes you to new people and allows you to explore new possibilities. You have an opportunity to have fun and make memories that will last a lifetime. College is the best place to build experiences and build a future. How to get a student apartment that suits you is the first step in this new chapter of your life. This is why you need to consider comfort, safety, and convenience before signing a lease. Finding the perfect apartment will require diligence and a lot of patience. Take time to weigh your options and find the right fit.