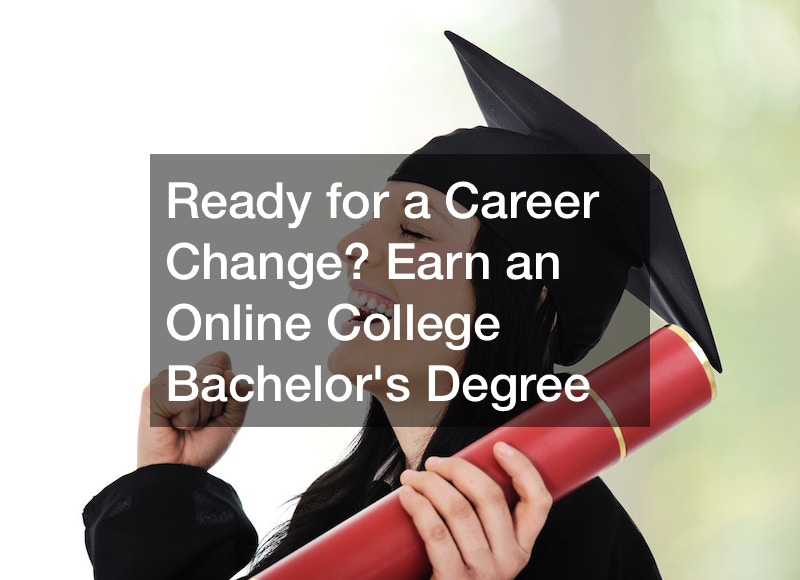 There are many reasons why you might be considering a career change. Perhaps your job is affecting your mental or physical health. Or maybe you chose the career for the money without considering your interests and passions, and now you're eternally bored. Whatever the case, we applaud you for not buying into the sunk cost fallacy. It's important to realize that it's never too late for a career change. One of the best things you can do for a successful career change is to earn a bachelor's degree in your new chosen field. Thankfully, there are many options for an online college bachelor's degree in today's technologically advanced world. Read on to find everything you need to know about earning an online college bachelor's degree before you embark on your new and exciting career journey.
How Do Online Bachelor Degrees Work?
Online degree programs are also known as distance learning programs, and they are now available from a wide range of community colleges and universities. When deciding to enroll in an online college bachelor's degree, it's important to know how it works, so you can manage your expectations. The first thing to know is that your program will probably not be 100% online. You may be required to attend campus-based or recurrent training classes, especially if your field requires you to have more hands-on training. Online degrees usually have flexible scheduling, unlike traditional classes where you have to submit regular assignments and write tests based on strict deadlines.
The program length for an online college bachelor's degree usually depends on the program. Online bachelor's degrees usually take longer to complete compared to online master's degrees. Additionally, since the program is self-paced, it's up to you how quickly or slowly you want to get things done. If you're up for some sleepless nights, you can opt for an accelerated program with intense courses that shorten the course duration. To enroll in an online college bachelor's degree, you'll have to submit an application along with paperwork that shows you meet the course requirements, such as a high school transcript. In order to participate in classes, you'll have to meet the basic tech requirements, chief among them high-speed internet access and a recent Windows, Mac, or Linux operating system.
You will participate via a virtual classroom that will give you access to forums, class calendars, informational posts, and interactions with instructors. In an online classroom environment, you'll be able to communicate with other participants and your instructors through email, instant messaging, message boards, and audio conferencing. Generally, online degree programs are structured the same way as traditional learning. The major difference is that most of the learning process won't be in person.
What Types of Degrees Can You Earn Online?
There are many types of online bachelor's degrees you can earn. For instance, computer degrees are quite popular, given how technology is advancing all around us. This degree might be right for you if you have a technical streak and an analytical mind. Professionals in the computer science field are increasingly in demand, so you can unlock many lucrative opportunities after completing your online degree. The top career options include web developer, back-end developer, front-end developer, or programmer. On the other hand, if you're interested in entrepreneurship, you might want to consider a business administration degree or a business tax training program that gives you a well-rounded education in finance, business law, and other aspects of running a business.
An education degree is also a great option that equips you with a set of in-demand transferable skills, whether you're interested in early learning childcare or community leadership. A similar option is a psychology degree which is ideal if you're interested in learning more about the human mind and behavior. Upon graduation, this knowledge will allow you to help others and comes with many career options. For those interested in becoming medical professionals and have a passion for caring for others, you can choose nursing as a degree. Nursing can be a fulfilling career with many specializations and is another in-demand profession that pays quite well.
There are many other options, so you'll be spoilt for choice when choosing an online college bachelor's degree. More options to choose from include accounting, marketing, logistics and supply chain management, and sustainability. The trick is to first identify your interest, skill, and passions. Make sure it's something you wouldn't mind doing every day. You should also make sure you're choosing a lucrative career option that reflects the world's current needs. The last thing you want is to spend time and money on a degree that equips you with obsolete skills.
Are Online Degrees Recognized?
Online degrees might seem like a new and much more flexible way of upgrading your education. However, some people have, at one point or another, questioned the authenticity of online degrees. You may also be interested in knowing if an online college bachelor's degree holds the same weight as a bachelor's degree obtained the traditional way. This is a great and valid question to ask. After all, when you graduate, you still want a degree that gives you a competitive advantage over other candidates vying for the same job. You want employers to hold your degree in high esteem and take you seriously.
The good news is that the right types of online degrees are recognized and respected. However, it must be emphasized that you have to apply to an accredited and recognized college if you want a legitimate bachelor's degree. This shouldn't give you any problems because most traditional and acclaimed colleges now provide online courses. This is a trend that became widespread after the coronavirus. With lockdowns and social distancing rules came the need for long-distance learning, and so, even the most traditional colleges had to move things online. As a result, your online college bachelor's degree should be given the same consideration when applying for jobs.
In fact, you find that more and more college students are increasingly studying online due to the benefits offered by this option. But how do you know if the college you want to study with offers recognized degree programs? Make sure you check accreditation because it gives you a good idea of the quality of education you can expect to receive and whether it meets international standards. When searching for the right college, make sure your final selection has the vote of confidence from a recognized accrediting agency. Doing your due diligence will ensure you can utilize your resources effectively and get the most out of your new career.
Advantages of Online Bachelor Degrees
It's safe to say that online learning has revolutionized the world of education. We are long past the days when you had to be physically present when taking college classes. This level of flexibility makes changing your career so much easier. If you're thinking of earning an online college bachelor's degree, one of the best benefits of doing so is flexible scheduling. When people think about changing their careers, they're usually at a point in their lives where they have to take care of their families. They may also have a set routine they have to stick to, such as taking the kids to after school sports, so being able to study online makes it easier to plan for lessons and classes. With online learning, you fit your studies around your life rather than the other way around. This relaxed approach makes it easier to learn complex materials because you can learn and review information at your own pace.
Another benefit of online learning is that it can help you save money. This is especially true if you find a college that offers lower tuition costs for online programs compared to on-campus programs. Additionally, you won't have to incur transport costs or worry about finding accommodation near the campus. This arrangement also saves time, and you can enjoy more free time when you study online. Because you're not commuting to and from classes, you'll have extra time to study and to relax in-between classes. Speaking of time, another benefit of taking online classes is that it encourages you to develop good time management skills.
When you have a flexible study schedule, it's easy to keep putting your studies on the back burner. You'll have to exercise discipline and be active in creating time for your studies. The good news is that once developed. This is a good habit that will be beneficial in your future career. Overall, earning a degree online makes it so much easier to increase your worth on the job market. To unlock the benefits of online learning, make sure you're committed to doing the work and seeing it through to the end.
Cons of Online Bachelor Degrees
Now that we have analyzed the benefits of online learning, it's also good to review the pros to put things in perspective. One of the biggest drawbacks is that online student feedback is limited. In a traditional classroom setup, you can get face-to-face feedback, allowing you to resolve issues quickly and directly. However, it's harder to get personalized feedback in an online setting, and this can be frustrating. A potential solution is to prioritize video chats with instructors and develop peer feedback systems. Learning online can also lead to social isolation due to remoteness and lack of interaction.
In that case, you might want to opt for a blended learning environment that facilitates increased interaction between online students. Another potential drawback of online learning is that you need to be strongly self-motivated and have great time management skills. Being motivated to learn can be difficult if you've just had a long day at work and have muscle aches and pains. It takes a lot of willpower to dive into your studies when you would rather be researching back pain remedies. Other cons of online learning to consider are the fact that cheating prevention is harder, the lack of face-to-face communication, and the focus on theory without incorporating the right amount of practice. Additionally, e-learning may not be easily accessible if you're not tech savvy and is often limited to certain disciplines. For instance, if you want to take GWO training courses, you may be required to complete elements, such as sea survival training and fire awareness training, that require you to be there.
Tips to Help You Succeed
Online degrees make it easier to graduate, but you can always use some help to increase your chances of success. The best tip for success is to prepare as much as possible so that you can fully meet the requirements of your program. Make sure your computer is all set up and that you have mastered the basic computing skills. It's crucial to stay focused, which can be helped if you have your own private school area or private school office that's quiet and doesn't have any distractions. You should also give yourself time to relax because all work and no play can lead to physical and mental exhaustion. It's good to find a good work-study-life balance that will help you stay on track. You should also remember that, although the thought of earning a degree online might be exciting, studying and graduating takes hard work, but keeping your eyes on the prize makes things easier.
Once you decide to change your career and earn an online college bachelor's degree, it's important to do as much research as possible. This guide helps you understand what you need to know before heading back to college. When choosing the right degree program, you should consider important factors such as the cost, the entry-level salary after completing your program, and the availability of work experience opportunities. There's always more to consider, but this guide will get you off to a good start. The most important thing is to be brave enough to start and make the change. By identifying the right educational opportunities in the form of an online college bachelor's degree, you can bridge the gap between your existing skills, allowing you to make a smooth transition. Start to plan for your future and act now for your career prospects to improve.