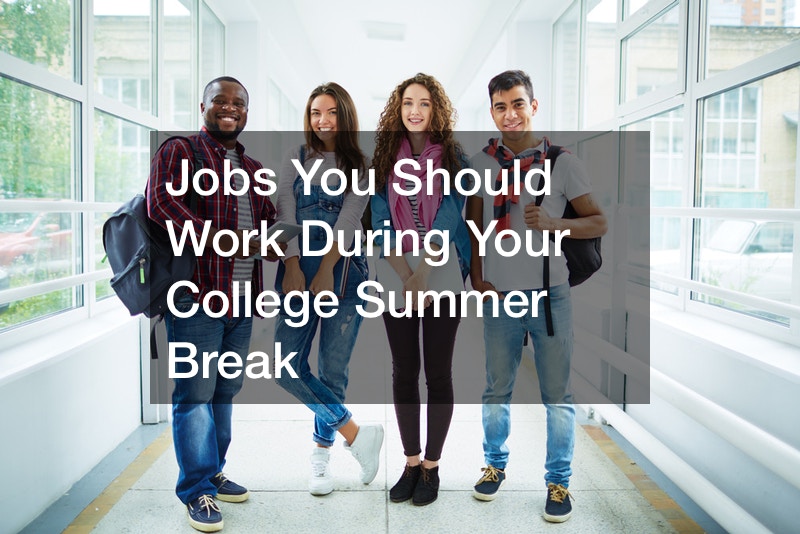 Summer break is almost here. Are you taking a staycation, or are you leaving your hometown to get away from home? Either way, it's important to remember that some summer jobs can help you build experience during your last few months of college. If you're not sure what the best type of job is, don't worry, we've got you covered. Here are several great ideas on what you should work on during this summer:
Tutoring
If you're looking for a summer job, look no further. Tutoring is an easy way to earn some cash during this season. Many students find themselves struggling to keep up with one or more classes. If you are an academic-minded individual, private tutoring can be an excellent opportunity to make extra money while helping others navigate college.
If you're having trouble with a subject area, chances are someone else is. This is why there will always be a demand for great tutors. You can tutor your classmates, or you can help strangers. Either way, you can earn some decent money quickly if you have the credentials. The best part is that it only takes a few hours per week.
Remember that if you want to tutor others during the summer break, there are several things that you need to do before getting started. First, make sure that your credentials allow you access to this type of work. If you have been accepted into a college program, you should tutor in that area. You can also set yourself apart from other tutors by earning a nationally recognized certificate in your academic subject.
A Camp Counselor
During the break from college, students have many options, and another great option is to work as a counselor in a summer camp. As a counselor in a summer camp, you will be responsible for supervising the children (or another age group). At the same time, they play games and interact with each other after learning new things like swimming or football basics. Fundamentally, working as a counselor in these camps is an important behind-the-scenes job that can look great on your resume.
As a college student, you could be an excellent candidate because you are familiar with the environment of teenagers and enjoy spending time with them. Also, if you can work at summer camps near your college campus, you would not even have to worry about commuting or providing transportation.
One of the essential parts of working as a counselor is making sure the children feel safe and secure at camp. If there are any problems, you should deal with them appropriately. Most centers have a specific handbook that you will be expected to abide by. If there are any questions about what is allowed or not, you should contact your supervisor for guidance.
Food Server
You're a college student looking for a job to pay the bills. You see an ad near the campus center for a pizza restaurant; they are hiring. The manager says they need more servers and asks you if you'd be interested in applying. Foodservice is one of the most popular summer jobs for teenagers. According to the federal Bureau of Labor Statistics (BLS), fast food and casual dining restaurants employ nearly 1 million teens each summer across America. It doesn't matter how old you are; you only need experience dealing with customers, can work under pressure and on your feet, and can follow directions from your boss.
There are some great benefits to working as a server during the summer. First off, if you're looking to spend money, the tips are great. Servers always get cash tips from their tables because it's easier than dealing with credit cards or checks. You also usually get to keep all your tips, except for a small tip-out that you give to the busboys and bartenders who helped clean up your section.
Second, working as a server will boost your resume, especially if you go out of your way to learn the business (like becoming an expert on wine or beer). You'll learn how to deal with difficult customers; solve problems; show off your sales skills; work under pressure, and use math.
Retail Sales Associate
Many teens and college students find one exciting job: that of a retail sales associate or floor worker. The job is full of endless possibilities and is another great way to earn cash during the summer break. A retail sales associate is often tasked with helping customers find what they are looking for in a store, such as a store dealing with custom t shirts. This means not merely locating specific items but also ensuring that they are presented aesthetically pleasing. This may even involve picking up items from the floor, wiping them down, and rearranging things on store shelves.
The job also involves assisting customers when checking out at a register with any additional purchases or exchanges that have been made. When there is downtime between customers, retail associates are often tasked with cleaning the store, restocking shelves, and otherwise ensuring that their employer gets what they need. These positions often require a strong knowledge of the product lines that their employers carry, making them good entry-level jobs for those interested in retail.
Lawn Service
While many people are looking forward to the sunny days of summer, some may need to hold out for that opportunity that will help them pay for these upcoming months. Working in lawn service is an ideal job during your college summer break. Since you already know how to do this type of work, you won't have to train much, and it's a job in the summer heat.
You only need to be committed and wake up early in the morning, about 6 or 7 AM. Depending on what type of lawn service you are doing, it could take the whole day. Just make sure you know your route before going out there because time is money when working for others. If you know what streets you need to cover, you can work your way up and down the area. If not, sometimes running into more houses makes it worth the time because then you will get paid for that extra mile or two of street coverage.
When it comes to dressing, ensure you wear comfortable clothing to be all day. You'll do a lot of sweating, so it's best to wear clothing that helps with the process. If you think you might get too hot, wearing white helps reflect the sun and cool you down even more than darker colors like black or navy blue. In some instances, you will be required to incorporate protective gear when rendering lawn spraying services.
Lifeguard
During college summers, students can earn a lot of money as lifeguards. It is a popular summertime job that doesn't require a college degree. There are several everyday responsibilities of being a lifeguard. Firstly, lifeguards monitor the safety of swimmers in pools, lakes, and beaches. They also watch for natural hazards such as rocks and rip currents that may pose dangers to people in the water. In addition, they assist swimmers who need help. They also prevent fights and other disturbances in the pool or on the beach. Lifeguards may also have to make emergency rescues from deep water and perform periodic safety inspections of the swimming area and equipment to ensure that all rules are followed.
Pool Cleaner
If you are looking for a summer job this year, consider asking your local pool company if they need help with any pool maintenance service such as cleaning. You can find many advertisements concerning this job by searching the web. Pool Cleaners don't get paid much, but you will get paid for the experience, and it is a great way to help your community. If you're lucky, you'll be able to stay around the pool during your summer job and maybe even go for a swim or two. In some cases, you can get intensive experience from your colleagues regarding other areas of pool maintenance, such as carrying out minor pool repairs.
Pool cleaner duties can range from vacuuming up leaves or other floating debris. They may also have to scrub the pool walls with a long pole, a brush on one end, and a metal scraper. The cleaner may also have to take away items not supposed to be in the pool, such as toys or towels. Some cleaners might have to clean out the pool filter, which is a machine that removes dirt and debris from the water so it can be cleaned again later. You don't need any special education or training for this job. College students are the perfect candidates because they are familiar with keeping busy during your summer break.
Roofing Assistant
If you are a college student, you have likely wondered how to get a job that will pay well and not take up too much of your time. Fortunately, becoming a roofing assistant is an excellent option for college students who want to get a job that pays well and can be done during the summer months when most of them have time off.
Before you can become a roofing assistant, though, there are some things that you need to learn about the job and how to prepare for it. For example, what does a roofing assistant do? How much money can you expect to make us one? What skills and abilities will prove helpful when trying to land such a job? By learning more about what it takes to become a roofing assistant, you will be able to determine if the job is right for you and, if so, how best to learn what you need to know.
To begin with, becoming a roofing assistant is an excellent option because the pay is perfect for college students who want part-time jobs. Additionally, the job is not very physically demanding, making it easier for college students to manage than jobs requiring more strenuous work.
A roofing assistant's main duties are making sure that roofs are installed correctly through the help of professional roofers and inspecting already-installed roofs on new buildings before they can be used. They will also be responsible for doing any needed repairs to roofs as problems arise. It will be a great option for college students who want to work during their summer break. It pays well, and the duties required are not very strenuous.
Work In a Salon
During your break from college, you should also consider working in a salon from your job. It can be an exciting and productive experience for those who love looking good and dealing with people. Moreover, it provides the perfect situation for gaining valuable experience that can help prepare pre-professional students for their future careers. The work schedule is flexible enough to be compatible with any student's class schedule. It can be an excellent way to pick up some extra cash without requiring too much time or effort.
Salons' job duties are often varied, keeping things interesting for those who enjoy not doing the same thing every day. Duties range from being a hair dresser by providing shampooing and styling services for customers to taking phone orders, managing the cash register, and performing other clerical tasks for the salon.
Salon work can be mentally stimulating and physically demanding. This gives it a better chance of being rewarding in the long term. Many salons are situated in trendy parts of town where chic style is essential. This means that the work atmosphere is probably more interesting than other jobs.
College break job opportunities vary from place to place, but many positions are available even if you live in a rural environment. Be proactive when looking for a job and go door-to-door or hand out leaflets. You may have family friends who own small businesses such as driving schools that offer professional driving lessons or restaurants that can use your service. Be sure to reach out to them to ask for a chance. Doing this will assist you in making the most of your free time. Remember, having fun is just as important as working hard.