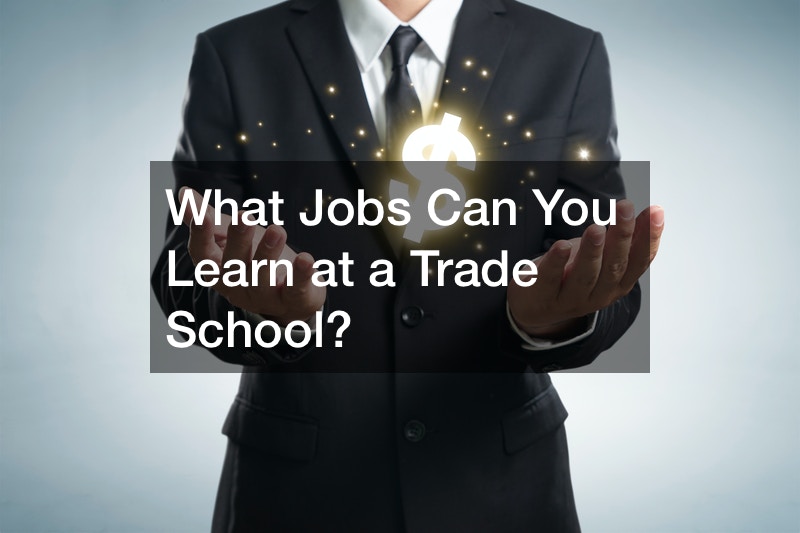 Does college sound boring or uninteresting to you? You're not alone. While university life does help many people transform their careers, not everybody will be suited to this path. Many people find themselves struggling in this situation and uncertain of what choices they can make here.
Thankfully, there are many trades you can learn in trade school that will help you stand out and feel comfortable with your life. The following options are all things that you can learn at a trade school near you. Research your options before you start to get the best results for your educational needs.
Utility Repairs
If you're trying to find high-quality trades you can learn in trade school, it is a good idea to consider utility repair training seriously. This type of career choice is often in high demand and will make you a surprising amount of money if you're good at it and ready to work hard on a variety of projects.
This career path can include things like plumbing, electrical work, HVAC repairs, internet installation, and much more. Specialized training helps make it easier for you to get the high-quality training you need and minimize any confusion you might have with your career along the way.
The best thing about this career path is that it is often in high demand by many different groups. So, for example, you can join up with a private repair firm and get more money. Or you can join up with a community-based service and have more job security but slightly less pay.
Thankfully, your training should last no more than one year and likely much less, depending on what field you tackle. Often, these fields are the heaviest with apprentices, meaning that you'll work hands-on with a team almost immediately after you finish with your trade school training.
Concrete Services
Concrete and various types of pavement often need specialized training to handle appropriately. This fact is especially true if you want to get into more planning steps with these services. Therefore, you need to check out trades you can learn in trade school specializing in high-quality concrete work.
The types of careers available here often vary heavily. Concrete technology includes things like designing new concrete (a more scientific field), all the way to building concrete slabs and bricks. The possibilities are quite diverse and should be something you can easily tap into for maximum creativity.
Alternately, you could train to get a job for concrete cutting companies. These firms can create fantastic artwork and tap into your innate creativity. During training, you'll learn all about this type of process, including how to prepare your concrete correctly and the various cutting methods available for you.
Or you can even open up a business specializing in concrete installation. You won't have to set up or make the concrete yourself in most cases. Instead, you can hire a concrete team to make it and haul it to the site. Then, you can pour the concrete yourself and craft it in a way that makes sense.
Whatever option you choose, a high-quality trade school should be able to help you. These unique training centers will give you the ability to train to your utmost ability, avoid any potential concerns with the process, and help make you the concrete technician you deserve.
Specialized Repair
Repair is something that used to be handled by just about anybody. However, of all the trades you can learn in trade school, this option may be the most important to take seriously. That's because a growing number of different specialized repair options are available that must be carefully understood.
For instance, you may want to get into a dock repair services field. Unfortunately, this pathway is often not taken seriously because few understand it. So, if you open up a dock repair company or side hustle, you'll be one of the only companies available. This means you'll get more business as a result.
Or you could get into selling boat decking hardware, another wise option. This type of hardware is specialized and unique to this field, allowing you to focus on a specific number of buyers. But, again, doing so helps you stand out in various ways and make your potential career more lucrative.
Even better, you can try out specialized repairs for elevators or other types of mechanical products. For example, there are many different elevators throughout the country that need repairing. And if you know how to handle these steps, it should be reasonably straightforward for you to manage a new career in this field.
Home Installation
Another of the trades you can learn in trade school is carpentry and home building and installation. This career path is one of those fields with a diverse range of options and a fascinating and unique potential. Understanding all of these factors can help to make this experience more enjoyable.
For example, you can try commercial steel window installation if it appeals to you. This career path will let you put in a high number of different windows in many other buildings. You can also provide a myriad of repair and maintenance services to help you feel more comfortable working in this profession.
Or you can consider learning how to build homes and other buildings. Construction education in trade schools often focuses on teaching the ins and out of this field comprehensively. As a result, you are more likely to feel comfortable handling all of these steps and get a higher range of potential gigs from potential customers.
Expert Cleaning
Did you know that you can learn all about skilled cleaning careers in trade school? This is probably the least understood and utilized of all the trades you can learn in trade school. However, it goes well beyond your basic cleaning steps and includes a myriad of different options well worth considering for your needs.
Cleaning is something that so many people just don't want to do themselves. And when you take control of it for them, you make it easier for them to feel comfortable with their home. Thankfully, training school can give you the help that you need to get involved in various levels of cleaning.
For instance, you could start a home cleaning service company that allows you to connect with various homeowners in fun and unique ways. This option is often a wise choice if you want to focus on the residential market and find a trade school that can help you with this career path.
Some people may prefer the commercial cleaning trade for many reasons. For instance, there are many different options that you can consider here, including high-quality hotel and hospital janitorial work. In addition, you don't have to do the heavy work yourself, as trade school will teach you how to manage a business.
So, whatever option appeals the most to you, it should be reasonably easy for you to find one that makes the most sense. Try to do a little research before you begin. The study will give you the insight that you need into all of these options and minimize your risk of falling into a challenging career you do not love.
Drywall Installation
Drywall is a big deal these days, and many people make a great living installing it in homes. And if you're interested in trades you can learn in trade school, it's hard to find an option that is in as high demand. So what kind of training will you need for this type of career, should you decide to pursue it?
What kind of drywall services are there available for people like you? That all depends on your training and what type of intelligence and expertise you bring to the situation. For instance, you could become a hands-on drywall installation expert who works directly with the public.
Your trade school will provide this option to make it easier for you to start up your career. This pathway often takes no more than a few months to master. After you get your license, you'll be able to work with more specialized teams and even get a higher wage than you would normally.
You may also want to consider options like drywall design or other unique steps to stand out. Many people who get into designing new types of drywall can make excellent salaries and even innovate new ideas that may transform the field, potentially earning a very lucrative salary in the process.
Whatever option you take, it should be reasonably easy to find a high-quality career path in the drywall business. While the more advanced options may take closer to a year to finish, you'll never have to go to school longer than 18 months if you attend a high-quality trade school near you.
Mechanics and Repairs
Car mechanics and repair experts usually start out by learning their skills in a trade school. Of all the trades you can learn in trade school, this option is probably the most common. However, there are many different categories within this career path that you can consider for your specific needs.
You can get into routine auto repair or even diesel truck repair. Both career paths are pretty lucrative if appropriately tackled and should be easy for you to thrive in if you go to a fantastic trade school. Diesel mechanics may make slightly more money but also have more intricate work to do on trucks.
Or you could become a certified diesel mechanic for a shipping firm, staying dedicated to just their trucks. This option has perks, including the ability to work on just a handful of vehicles and a strong level of loyalty that minimizes having to rely on sales from other customers.
If you don't feel comfortable with repairs or mechanical work, you could also get into dealing with auto parts. This service is an excellent choice because it lets you open up a new business, experience the public, and work within a car-related field that you love. Or you can sell car parts at your mechanic shop.
Welding Services
Lastly, welding is one of the most popular trades you can learn in trade school. There are a few reasons why this field is so popular. Chief among them is the unique range of potential welding careers and the fascinating array of possibilities provided for those who dive head-first into this path.
Welding is an excellent option because so many job opportunities are available. For instance, a large number of firms constantly look for new welding experts who can handle the demands of their profession. In addition, pay is often relatively high, providing you with an immediate benefit right out the door.
And some might find a job welding wiring in electrical situations, a career path that has become very specialized over the recent years. Others may get into underwater welding or other somewhat hazardous jobs, providing themselves with a potential for higher pay.
Welding also provides a chance for real improvement in your trade. As a result, many welders transition to management positions or even take charge of whole teams. Some even open up a new business and thrive, providing specialized welding choices for different and challenging scenarios.
In this way, welding is one of those careers and trades that has become ubiquitous with trade schools. Yet, while it is possible to learn hands-on with this career without a trade school, a growing number of firms refuse to hire people unless they've been thoroughly trained in a high-quality trade school.
As you can see, there are many trades you can learn in trade school that will transform your life for the better. By simply taking the time to learn these trades and improve your life, you can give yourself the improvement that you need to tackle bigger and better things. As importantly, you can do what is necessary to provide yourself with the long-lasting and beneficial financial support you want.