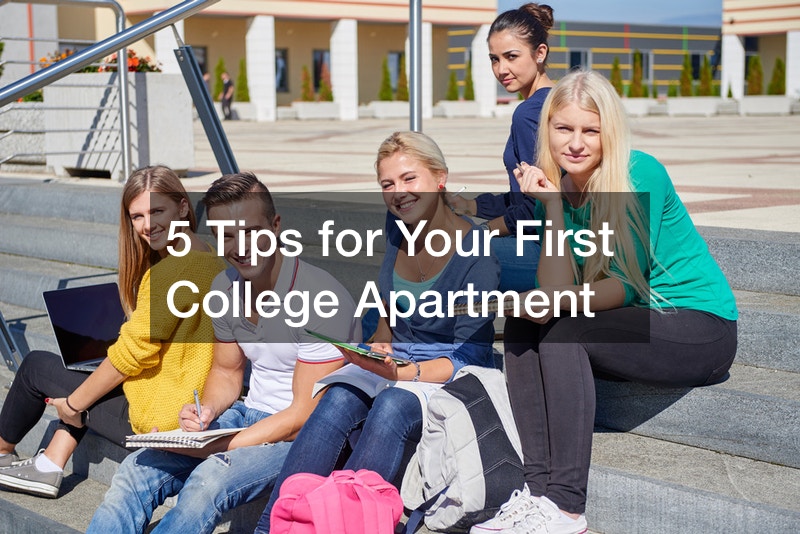 Moving to your first college apartment comes with excitement and opportunities to take on some responsibilities. First, you have to find an apartment close to the school to cut down on expenses, but the apartment also needs to be in great shape. While it may be hard to get it right the first time, you get to learn what is important and make adjustments as you go. Discussed below are some of the things you need for your first college apartment.
Clean up the House
You have already found a place near your schools and probably close o your work. However, unless the unit you are moving to is new, you need to do a thorough cleaning. It is likely that many people have already stayed in that unit, and you do not know how hygienic they were. Suppose you could hire cleaning services to do the job for you, it is even better. You should understand that among the things you need for your first college apartment is somewhere functional. Therefore, inspect for any repairs and ask the property owner to fix them before you move in. As you examine the house, check whether it is infested with pests. If you notice droppings, especially in the kitchen cabinets, you will need pest control services to spray the entire house.
The next thing to check is for water damage, especially under the sinks or on the ceiling. Water damage can result from a broken plumbing system and cause your water bills to hit the roof. Talk to the lessor and request water damage cleanup before moving in. Once you have cleaned the house and settled in, one of the things you need for your first college apartment is to have a cleaning schedule that you will manage easily. Some of the tips you can use include;
Choose one day a week for thorough cleaning
Between schoolwork, a job, and having fun, you will not manage to clean the house every day thoroughly. Therefore, you can pick one day of the week like Saturday, when you are less busy, and do the big stuff like carpet cleaning, washing the counter, and dusting the house.
You may want to do small tasks over the week that will not take a long time. For instance, after you are done eating, clear the table and wash the dishes. The more you pile them up in the sink, the less you will feel motivated to clean up. Pick things from the floor and put them where they are supposed to go to reduce clutter.
During exams, make use of disposable products
This is ideal for most people who do not have a dishwasher. During exams, you may not have much time to clean the apartment, unlike other times. Instead of letting dishes pile up and attract pests, buy paper cups, plates, and bowls and use plastic utensils which you only need to dispose of after eating. When you are done with exams, you can resume your cleaning schedule.
With a clean college apartment, you are likely to be more productive than when everything is messy and everywhere.
Get Living Room Furniture
One of the things you need for your first college apartment is furniture for your living room. Since most college apartments come with limited spaces, you will probably combine your living room and working space. Therefore, a couch and a desk will be your main focal points in the living room. Also, you may want to go for a darker fabric for your sofa as it will not show a lot of stains, especially from drinks or food spills.
You will also need a coffee table to bring the space together. The size of your living room will determine the coffee table size. However, consider getting a table with storage space to put books, board games, or even a flowerpot. You can also personalize the living room through personal touches like art pieces, frame photos of you and your family members, and some plants. This will make the space feel more like home.
With the significant amount of time you will be spending in your living room, you want to make it as cozy and comfortable as possible. Ensure that the AC is in great shape or contact HVAC services to inspect and repair the system. Get a throw blanket and drape it on the couch, then add some throw pillows as well. You will also need a living room rug to add some style and comfort to the room. It is best to choose a dark-colored rug for a college apartment that will not show a lot of stains. A wine or tea stain is not a pleasant look on a white carpet.
You need to invest in a suitable desk and ergonomic chairs for your working space to avoid back pain and work productively. Also, if your desk is in the corner facing an empty wall, try to make it livelier. Add a calming painting that will not distract you as you work, some pictures, and a few posters. You also need to spend some money on stationery like pens, notepads, pen holders, and sticky notes. If there are no electrical fixtures near your working desk and you do not want to use an extension, consider fixture installation somewhere near the desk.
You may also want to get an entertainment unit or TV stand if you do not plan to mount it. However, TV stands are usually convenient as they come with additional storage space for a gaming system, cable box, or books and magazines.
Get Essentials for the Kitchen
When it comes to the kitchen, some things you need for your first college apartment are kitchen furniture. However, your priority will be primarily a few kitchen chairs and a table. Even bar stools will do the trick if you have a counter rather than getting a table. When getting dishware, start with a few pans, pots, plates, bowls, mugs, and glasses. Since you probably will not be hosting many people for dinner, getting at least four pieces of each of those items will do the trick. Add some wine glasses and serving platters if you see fit.
In addition to that, you need basic utensils like forks, spoons, knives, and somewhere to store them. Other essential items you will need include a silverware organizer, cutting board, bottle and can opener, vegetable peeler, colander, dishtowels, and oven mitts. Kitchen appliances are also among the things you need for your first college apartment. While you may not need fancy gadgets, there are vital appliances you will use often. You will probably need a microwave, toaster oven, a coffee pot, and a blender. Research the cost of these items while factoring in their features. Since college apartments have limited spaces, size will also matter for these countertop kitchen appliances.
The next thing you need for your kitchen is to ensure your pantry is stocked. Some items you will need include salt, pepper, spices, oil, and condiments like mustard and ketchup. When stocking up the pantry, choose items that you often use and match your cooking habits to save on cash. When shopping for food, beware that food can be expensive at times. You may therefore want to look out for rewards programs that will help you save. Also, every time you go shopping, carry a list with you. It can be annoying when you are unloading the shopping and realize you forgot certain items.
You will also need kitchen cleaning supplies like paper towels, multi-purpose liquid cleaner, dishwasher detergent, a trash bag, a trash can, and a recycling bin. As you move in, ensure that the cabinets are not broken and the plumbing system and fixtures are in good shape. If you notice the water is draining slowly while inspecting the house, talk to the property owner to arrange drain cleaning repairs. While you may not get all the things you need for your first college apartment, you realize what you can do without and what is necessary with time.
Furnish the Bedroom
Furnishing a bedroom is usually not hard since you probably have some of these items already, and you are just moving them. However, to cover all the basics, including bed bug removal, some of the things you need for your first college apartment include:
Bedroom furniture: If you are moving to a college apartment owned by the school, it may already be furnished. However, you will need a bed frame, a nightstand, a spring box, a dresser, and a comfortable chair or a beanbag if you start from scratch.
Beddings: Your bedroom will need a comfortable mattress and linens. It is best to have more than one set of linen for days when you will be doing laundry, or you need to change it and wash it another time. Of importance as well are pillows, a duvet or comforter, and a mattress topper.
Window treatments- One way you can ensure you enjoy a good night's sleep is by using curtains and blinds that will not let in as much light into the room.
Bedroom decor: Get some posters, throw pillows, area rugs, or other decorations that will personalize your room.
Lighting- Your bedroom lighting is essential. You will need a desk lamp or floor lamp to brighten up the room when you are doing some reading at night. Get some sustainable, energy-efficient bulbs that will make your space feel cozy.
A mirror and clothes hangers: A mirror is not only for checking yourself out, but it will make your bedroom appear bigger than it is. The bigger the mirror, the better. Clothes hangers will come in handy in reducing clutter in the room. When you hang clothes, it becomes easier to pick an outfit and arrange your clothes.
There are other miscellaneous bedroom essentials you will need, like storage bins that go under the bed. Here you can put spare towels, linens, or items you use once in a while. You will also need a laundry basket and wastebasket.
Get Bathroom essentials
With a college apartment, you can say goodbye to waiting in line to take a shower or forgetting the shampoo in the bathroom and finding it missing. You now have your own bathroom to shower in anytime you want. However, with that joy, there are things you need for your first college apartment. You may not need shower shoes anymore, but you will need several items, including;
Shower curtains, hooks, and a liner- Shower curtains do not have to be boring. They come in a variety of patterns and colors, and you can choose something suitable to complement the design of the bathroom. Remember to get a shower liner to hold the curtain up.
Towels and small mat- You will need a set of towels from bath towels, washcloths, and hand towels. It is also good to get at least two of each for when you are doing laundry. Add a nice bathmat to step on when coming out of the shower.
Toiletries and tissues -These are bathroom necessities that most people forget and end up making a last-minute trip to get them. You will need tissue paper and a toilet paper holder if the apartment does not come with one. While shopping for bathroom necessities, add shampoo, conditioner, body wash, soap, and other personal items. Also, check on bathroom storage, a place you will store all bathroom essentials.
Bathroom cleaning supplies- You need supplies like a toilet brush, a wastebasket, and a plunger to help keep the bathroom clean.
Before settling in the house, you will also have to check how functional the bathroom is. Nothing can dim the excitement of a first college apartment like opening the shower and finding a broken water heater. Therefore, check if you will need water heaters repair before moving in.
Among the things you need for your first college apartment include a first aid kit, a tool kit, and a wifi router. When moving for the first time, you may not have the money to purchase everything at once. Therefore, be open to doing it gradually. Also, you may want to talk to your parents about giving you some items like dishes, to start you off.