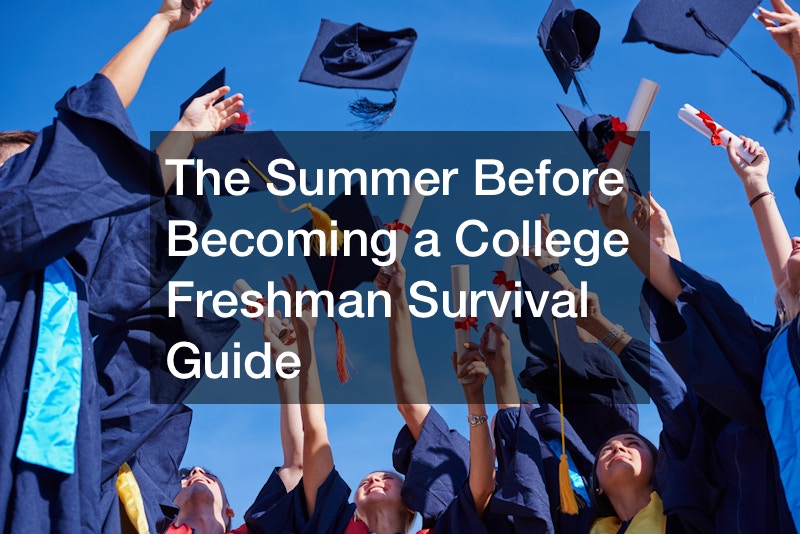 Joining college is the most exciting part of every first-year student's life. It's a time to create new friendships, enjoy the freedom of living away from your parent's home, and get a sense of adult responsibilities. The transition can be overwhelming, but with adequate preparation, your first year should be a smooth ride. We've prepared a freshman survival guide to help you.
Get Discounted Deals
Going to college already costs an arm and a leg, so you want to find ways to save on costs. And one way to do it is to find discounted deals. From digital subscription discounts like Amazon Prime Student, which provides a six-month free trial, to service discounts at the school library, museum, and movie theaters, there are many discounted deals a first-year college student can leverage. Here are some you may want to look at:
Software student discounts: Software, laptops, and other gadgets are essential to your freshman survival guide. You can check out stores offering student discounts on such items. Best Buy, for example, offers student discounts on video games, tablets, mobile phones, laptops, and TVs. And if using Microsoft software, check if there's a student package. Microsoft offers Office 365 suit for free
Entertainment student discounts: Streaming services are a critical part of entertainment for the modern college freshman, but many students don't have much cash to spend. The best way to stream while cutting costs is to check if the streaming services offer student discounts. Hulu, for example, has an exclusive student discount that allows students to spend $1.99 only per month to access its services
Clothing student discounts: You don't need new clothing for your freshman wardrobe. You can create a fresh wardrobe by shopping at nearby clothing stores offering discounts. Stores like Aeropostale, and Calvin Klein offer student discounts
Purchase an old car: If you live far from the school, you may need a car. However, since you don't have the cash to splurge on a new car, it's best to look for an old vehicle. You may visit your mechanic to inspect it, and if some parts must be replaced, purchase a wholesale auto part to save on cost
Car insurance: Most insurance providers offer student discounts. Only students within a certain age and with good performance (3.0 GPA and above) at school qualify for such discounts. Also, they're not available in all states hence the need to talk to an insurance agent to determine the discounts you qualify for. Examples of insurance providers that offer student discounts are State Farm, Allstate, Progressive, and Geico, to mention a few. It's important to note that the discounts are applicable if your parents are paying for the insurance
Get Rid of Allergies
You want to know if you've allergies and the best way to manage them before leaving for school. This means making an appointment with an allergist weeks or months ahead of the school day for allergy testing. The examination determines if your body develops allergic reactions to known substances. Usually, the test can be a skin test or a blood test. The allergist may recommend ways to minimize allergic reactions, like:
Wearing a mask
Eating healthy
Steaming
Taking showers and changing clothes
Taking more non-alcoholic drinks
If you already know your allergies, determine if the prescription needs changing or updating. Also, if the college is located in a different climate, enquire if it can affect your symptoms and the best way to manage the triggers. You also want to check if your health insurance works in the new state and the providers. If you don't have insurance, ask if the college offers a student health plan.
Get a Spa Treatment
The hustle and bustle of preparing for college can take a toll on your body, and going on a spa treatment is a great tip to add to your freshman survival guide. The treatment combines massages, deep cleansing, hydrafacials, body treatments, and moisturization.
A spa treatment helps relax the body and the mind and removes unhealthy substances, allowing you to recover from all the stress you've been dealing with.
Studies show soaking the body in warm water, e.g., in a hot tub, reduces the amount of cortisol in the body. That's why the spa treatment of therapeutic baths provides physical and mental benefits like increased relaxation.
It's also a great way to bond with your mom, sister, or friend as you say your goodbyes. You'll probably be gone for three or more months, and going for a spa treatment allows you to interact with your loved ones more closely.
Sell Old Stuff for Extra Cash
Another great hack to add to your freshman survival guide is to have extra cash. College can be expensive, even with student loans and help from parents. You need money for housing, tuition, books, gas or bus fare, and other school supplies. Relying on pocket money for all such expenses leaves you flat-broke most of the time.
As such, you want to find ways to make extra cash ahead of college. For most colleges, the first year starts in the fall, so you've ample time to make money. You can look for a summer job, sell broken jewelry or old stuff, take online surveys, or sell gently used clothing.
Get Your Car Prepared
This is another smart hack to add to your freshman survival guide. Your parents may have bought a car to help you get around college, or you may have saved up and bought a used one. Whatever the case, you must prepare it for college ahead of time. Begin by washing it thoroughly to remove any dirt or debris that damages a car over time.
Then ask a technician to check the tires and cooling system to ensure they work properly. Oftentimes, cooling systems are the number one reason car owners visit an auto repair shop. The professional will check the level and cleanliness of the coolant and determine if it needs to be replaced.
While at it, ask the technician to check the oil, especially if you have an old car. Older cars need oil changes every 3,000 – 7,500 miles, and if your car has crossed this mark, an oil change is necessary before leaving for college.
Tires, on the other hand, could be under-inflated, posing a hazard when driving. It's also important to have them checked for wear and tear and always carry a spare in the trunk.
Adult Braces
If you've been wearing braces, it's time you ditch the traditional braces for more comfortable options. Oftentimes kids wear metal, plastic, or lingual-type brackets which are bonded to the teeth. Brackets are affixed to the tooth, and a metal wire joins them.
The wire helps adjust and manipulate the teeth into position, giving you a beautiful smile. Although traditional braces help realign teeth to the desired position, they can be unsightly. The last thing you want is to be labeled as the kid with braces in your first year.
It would help to visit your orthodontist to determine if they can be replaced with the best Invisalign. This kind is clear, removable, doesn't use wires, and you can clean your teeth while wearing them.
The greatest hurdle of traditional braces is that food and bacteria get stuck between the brackets, making maintenance challenging. With Invisalign, however, you can remove the aligners and clean them after eating to prevent bacterial infection.
Finally Get Over That Acne
If you've been struggling with acne, it's time you had that checked by a dermatologist. You may have cruised through your younger years with simple remedies, but the condition may flare up as soon as you join college. It's time you took serious steps in maintaining your skin. Have a skin routine for your skin type, and ask the dermatologist to recommend the best products. Here are more tips to keep the acne in check:
Wash your face every day: Oil, sweat, makeup, and dead skin cells build up on the skin during the day hence the need to clean it. Otherwise, such build-up clogs the pores causing acne breakout
Use the right cleanser for your skin type: When cleaning your face, you just don't want to use any product, look for a good cleanser. There are cleansers for dry, normal, and oily skin, so you want to use the right one. If you've oily skin, for example, look for a cleanser that contains benzoyl peroxide and salicylic acid
Apply a moisturizer: Keeping the face hydrated is critical to keeping acne in check and improving healing. And a moisturizer goes a long way in keeping it as such. Look for a lightweight moisturizer that won't clog your pores
Drink water: Adequate water keeps acne in check and improves overall health. As such, you need to stick to the recommended eight glasses a day
Check your diet: It's easy to get away with an unhealthy diet of junk and high-carb foods in college. However, it always shows on your face. Eating healthy meals consisting of fruits and veggies is important. Also, reduce the intake of dairy products, which contain hormones that exacerbate acne breakouts
Freshen Up Your Living Space
You'll probably be assigned a dorm to share with roommates. This means you need to carry personal items like clothing, shoes, bedsheets, toiletries, and laundry cleaning essentials, to mention a few.
Another handy tip to add to your freshman survival guide is to carry storage containers to keep your space neat. You can shop for containers to store extra socks, bedding, toiletries, or underwear.
They should be easy to stash under the bed so your space isn't crowded. Remember to visit the room early enough to determine the available space. Some schools provide strict rules on the dimensions of furniture required, so you want to carry a tape measure when shopping.
And since another person previously occupied the room, clean it thoroughly before settling in. Check the bathroom and sinks to see if it's draining properly. If not, ask the school's drain cleaning service to fix it.
Get a Makeover
A good makeover is a great tip to add to your freshman survival guide. It helps boost your confidence before the first year and develop a new style that shows your personality. If you've been wearing old or faded clothes, it's time to change them for something fancier, trendier, and one that says you're now a college student.
For style inspiration, you may look at your favorite celebrities. You could imitate them by shopping for affordable clothing and matching them to fit your taste. Also, add a few shoes to match your new style. You don't have to buy expensive shoes, look for pairs you can wear with different clothing.
A sneaker, for example, is so versatile you could wear it with a dress (mid-length and short dresses) and jeans. The makeover may also involve wearing more natural or bolder makeup. You could visit your beauty service professional to help you select the best products for your new look.
If going for a more natural look, you could buy more natural lip products and lighter makeup around the eyes. However, if you want a bolder, more dramatic look, you should be ready to spend a little more time wearing makeup.
Get Your Hair Colored
Part of your freshman survival guide includes dying your hair. You're growing, and college allows you to experiment with different things, including dying your hair. Vibrant hair colors like pink, red, icy blue, ombre blue, and two-tone dyes make your hair pop.
In addition to hair coloring, you could change your hairstyle to edgier ones like the daring pixie, the messy bun, side braids, and double half-top buns. They make great hairstyles for college students. Most are simple to style and maintain.
With this freshman survival guide, you can adequately prepare for your first year. It's a great way to avoid the last-minute rush, giving you ample time to settle before the school sessions. Remember, it's a time to study, rediscover yourself, and make lasting friendships. Have fun!