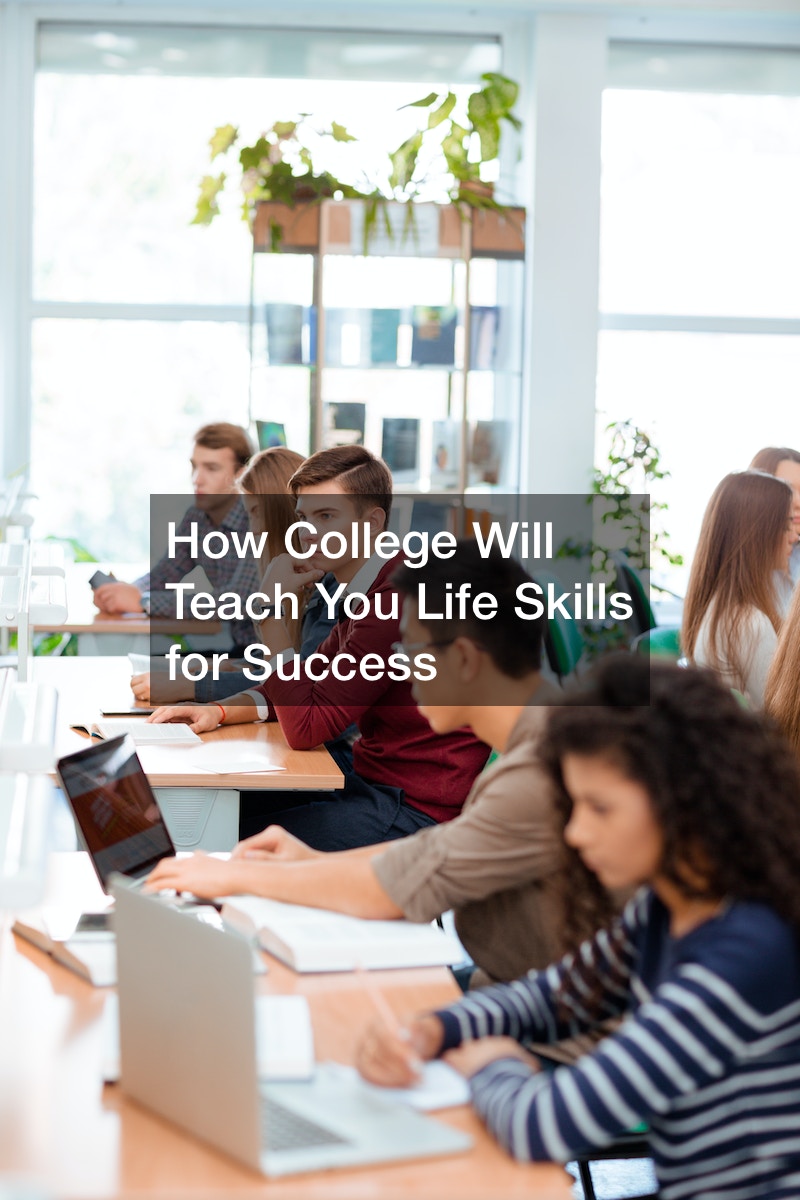 Heading off to college is a great way to dive deep into a subject that you are passionate about and that is important to you. When it comes to going to college, however, there are also many different life skills for success that you will also likely pick up along the way. Knowing what life skills for success you can learn while you are away at college can help you to prepare for what is to come in the near future.
The Benefits of Attending College for Life Skills
Whether you are planning to attend college in the hopes of becoming an independent chiropractor or if you want to run your very own restaurant, there are many advantages that are linked to enrolling in university. Attending college is a way to gain life skills by working together with peers, professors, and other specialists in your area of expertise. When you are away at college, you will also need to quickly become more responsible and accountable for your actions, as you will be paying for the education you receive.
Communication
One of the most pivotal life skills for success that you will acquire when you are attending college is communication. Communication is key when it comes to connecting with peers, sharing your insights and findings, and even presenting work to professors. Knowing how to communicate will also help you to network once you are ready to leave university and enter the workforce as an independent adult.
Communication skills will help you in and out of college. Whether you're spending time with friends, attending a job interview, or giving a speech in front of your colleagues, knowing how to effectively communicate will go a long way in determining your potential for success. The more familiar you become with the ins and outs of communication in both casual and formal settings, the easier it will be for you to navigate any social situation you may find yourself in personally or in some cases, even professionally.
Teamwork and Collaboration
Teamwork and collaboration are also life skills for success that you will learn immediately upon enrolling in and attending college courses. Learning how to work together as a team is essential whether you are completing a science project or writing a new programming script. Knowing how to connect with members of your team in a direct and concise manner will also help you to lead better and ensure that all tasks involved in a project that you are working on are delegated appropriately.
Collaborating with team members will help you to get to know more about the needs of the individuals you are working with, especially if you are doing so for any extended period of time. Gauging the needs of those who are working on your team can also help you to better communicate and collaborate with them directly. Collaborating with your teammates will help to alleviate the stress on particular individuals in your group while ensuring that all work involved in a project or endeavor is split equally and fairly.
Teamwork and collaboration are not just important for those who are enrolled in school. In fact, working in a team and collaborating with co-workers and colleagues is part of most roles in careers today. Knowing how to communicate with different personalities while collaborating effectively can drastically improve the productivity rate in any workplace, regardless of the market or industry you intend to work in.
Customer Service
Another life skill you will pick up when you are attending college and working with others is customer service. Customer service skills are typically acquired when working in a job that demands customer service from all employees, such as a retail storefront or a fast food restaurant. If you intend to operate your own dental practice or various types of learning centers once you graduate, you will also need to understand the ins and outs of customer service before pursuing your endeavor.
Customer service is often considered equally important as the quality of the products or services that are being offered by a business or brand. If a customer feels as if they are being ignored, mistreated, or in some cases, even ripped off, they are much more likely to write a negative review or promote a bad reputation for the business and brand. Whenever you are planning to go into business, regardless of the type of venture you're pursuing, you will need to do so with a customer service-oriented mindset.
Creative and Critical Thinking
Developing your ability to think critically is not only important to manage your schedule, assignments, and courses in college, but it is also essential when living independently and working in the workforce. Regardless of the type of education, you are currently pursuing, improving your ability to think critically and creatively can have a significant impact on the trajectory of your future career prospects. The more creatively and critically you are able to think when it comes to problem-solving, the easier it will be for you to navigate any career option you have in mind.
How to Develop Critical Thinking Skills
Invest time in problem-solving and stepping away from a situation to assess all angles before coming to a conclusion. Utilize as much data as possible when presented with a narrative to distinguish between fact and faction. Whenever you are presented with a particular topic, subject, or narrative, it is also important to consider who is behind each particular narrative and whether the said narrative is currently being funded. Taking the time to step away from a topic to assess it will also help you to develop a more well-rounded opinion on the subject. The more thorough you are in your own research, the less likely you are to find yourself confused by any type of information you encounter.
Financial Management
Learning about financial management is extremely important when it comes to life skills for success. Whether you want to run your own tax preparation service business in the future or manage your student loans effectively and efficiently, you can do so once you are familiar with basic financial management skills. While it's possible to acquire financial management skills by enrolling in MBA and accounting courses, you will also pick up on how to better manage your own finances by living independently, obtaining a job, and managing your own vehicle.
The Importance of Financial Management Skills
Learning about financial management will not only help you to stay afloat throughout your college years, but it will also prepare you for living on your own as an independent adult once you graduate. Once you are living on your own, financial management skills will help you to navigate your options, from leasing a vehicle to investing in a home or a commercial property, depending on the vision you have for your future. Financial management skills will also help you to budget and prevent you from overspending or investing in something that is not likely to pan out.
Legal Knowledge
Legal knowledge can be extremely beneficial for those who are interested in acquiring as many life skills for success as possible while they are away at college. Whether you are becoming a lawyer to help with estate planning or if you believe you may require legal assistance personally in the future, having a basic understanding of the law can help significantly in any case. If you are thinking of learning more about the law, you can do so by enrolling in basic law courses or familiarizing yourself with the US Constitution and Bill of Rights.
For those who want to know more about specific laws where they currently live, reside, and go to school, take the time to research state-specific laws online and in various legal books. Referencing laws can help you to learn more about potential crimes that are most prevalent near you and your rights as an individual. Having vast legal knowledge will also come in handy if you choose to go into business and want to protect yourself legally and financially as best as possible.
Work Experience and Work Ethic
Work experience and ethic are two life skills for success that should not be underestimated, even if you are enrolling in college for the very first time. When you are enrolled in a college or university, you will likely need to work in order to support yourself, especially if you are choosing to live on your own independently in a home or apartment. Working a regular and consistent job when you are younger is one of the fastest ways to gain experience while simultaneously building on your own work ethic.
Individuals who have work experience and a good work ethic are much more likely to be considered reliable and trustworthy. When you are committed to a job, it is also much easier to work your way up and establish yourself as an authoritative source or professional. The more engaged you are with your work and the more seriously you take your own work ethic, the more likely it will become for you to set and accomplish your career goals.
Cultural Exposure
If you want to expand your worldview and get out of your comfort zone, you can do so by heading off to college or university. Cultural exposure will allow you to experience a wide range of lifestyles, religions, and belief systems of people from all around the world. Attending a diverse college campus is a great way to immerse yourself in different cultures that you may not yet be aware of or familiar with yourself. Once you are enrolled in a diverse university or college, you can then begin signing up for various classes and events, such as jazz dance classes.
Benefits of Cultural Exposure
Exploring all that the world has to offer is not always as simple as going outside. Because most individuals are restricted from visiting all corners of the globe, attending a college or university provides the perfect opportunity to explore new cultures right at home. Universities and colleges welcome individuals from all backgrounds, lifestyles, and religious belief systems. Learning about new cultures and immersing yourself in various lifestyles will also help you to have a better understanding of the world that is all around you.
Empathy and Listening
Today, empathy and listening are also two of the most important life skills for success that you can pick up on when you are attending college or university as a full-time student. Because of the rise in young adult mental health crises across the country and world, listening and demonstrating empathy is more important than ever. Knowing how to display empathy for someone who is sincerely struggling is key to truly making a positive impact in their lives.
Empathy is essential to better understanding individuals who are suffering or struggling in ways that you may not understand at the moment. Taking the time to put yourself in the position of others who may not be as fortunate as you can help you to develop and harness your own empathy. Showcasing empathy for others is also a way to go about establishing trust and connections with those around you.
In addition to demonstrating empathy, it is also important to work to develop your listening skills, especially as a college student. College students will likely find themselves in many disagreements and debates throughout their college careers. However, while debates are healthy, it is also healthy to learn how to listen to another individual who is speaking, even if you do not always agree with them. Honing your own listening skills will not only help you to make authentic and genuine connections while you are in college, but they will also go a long way once you begin seeking a career and looking for a job in the actual workforce.
When it comes to acquiring life skills for success, going to college is one of the best places to look. Whether you're going to university to work towards a degree in business, agriculture, or even programming, there are many different life skills for success that you are likely to learn each step of the way. Immersing yourself in the full college experience will also help you to make the most out of the life skills you learn and acquire throughout your higher educational journey.